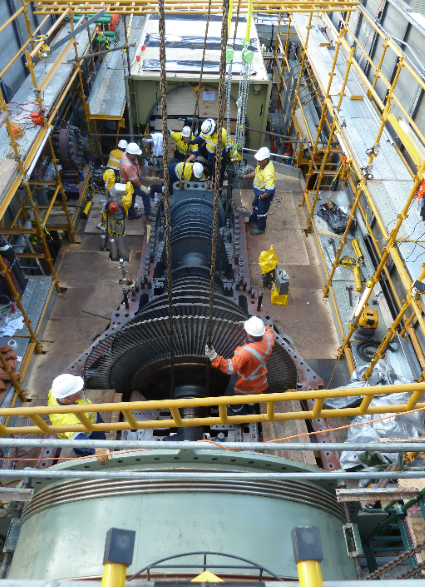 BrettKye Engineering Pty Ltd commenced operating in August 1996 in Sydney's South. Over the next few years the growth of the business rapidly increased which in 2008 resulted in the company name change to BK Industrial Group Pty Ltd, expanding into a workshop facility in the Western Suburbs of Sydney. With this growth came a variety of work from small site maintenance projects in Food Industry Facilities around Sydney to supplying teams to South Australia and Western Australia to work on Turbines in Power Generation Plants, this just showing how diverse our work scope is. No two jobs are the same and BK Industrial Group thrive on the challenges each project brings.
BK Industrial Group strive to continue the exceptional work practices, accuracy, customer focus and outstanding safety record. Our team shows respect and extensive knowledge to their craft.
BK Industrial Group achieves high quality outcomes for clients through a constant focus on continuous improvement, quality work practices and investing in the ongoing training and professional development of our experienced staff. This is how we do things, what we stand for, and this is our commitment to our clients.
Our Core Values
An uncompromising commitment to safety and quality.
A clear focus on delivering customer results.
A drive for exceptional performance.
A reputation for integrity that is earned every day.
A passion for innovation.
A culture built upon people and relationships
Mission Statement
BK Industrial Group provides comprehensive services to clients, with a key focus on quality design, fabrication, installation and maintenance; all delivered with an emphasis on professional, safe, and timely outcomes.
Vision Statement
Our vision is to develop long- term partnerships with our customer and vendors using solid business practices.
Over 25 Years of Engineering & Fabrication Experience
BK Industrial Group provides an array of engineering services. All services rendered include the supervision of experienced Technicians to ensure the success of every project.
Services are either carried out at customer sites/ plants alternatively BK Industrial Group Workshop facility allows for machining and fabrication of various components to be completed with state of the art equipment.
Capabilities
Fabrication & Installation
Certified Welding Services
Upgrades & Modifications
Mechanical Overhauls
Field Services (Including FIFO)
General Engineering
Site Shutdown Expertise
Manufacture/ Repair and Installation of Pressure Vessels
Client Services/ Plant Maintenance
Turbine Servicing Management
Industrial Project Management
Pressure Piping
Documentation (Including Data Reporting)
CAD Design
Industrial Design
Integrated Management System (IMS) Certified
ISO 9001 Quality, ISO 14001 Environmental & ISO 45001 OH&S, Management System's integrate all the processes for efficient business management, reaching targets and accomplishing objectives.